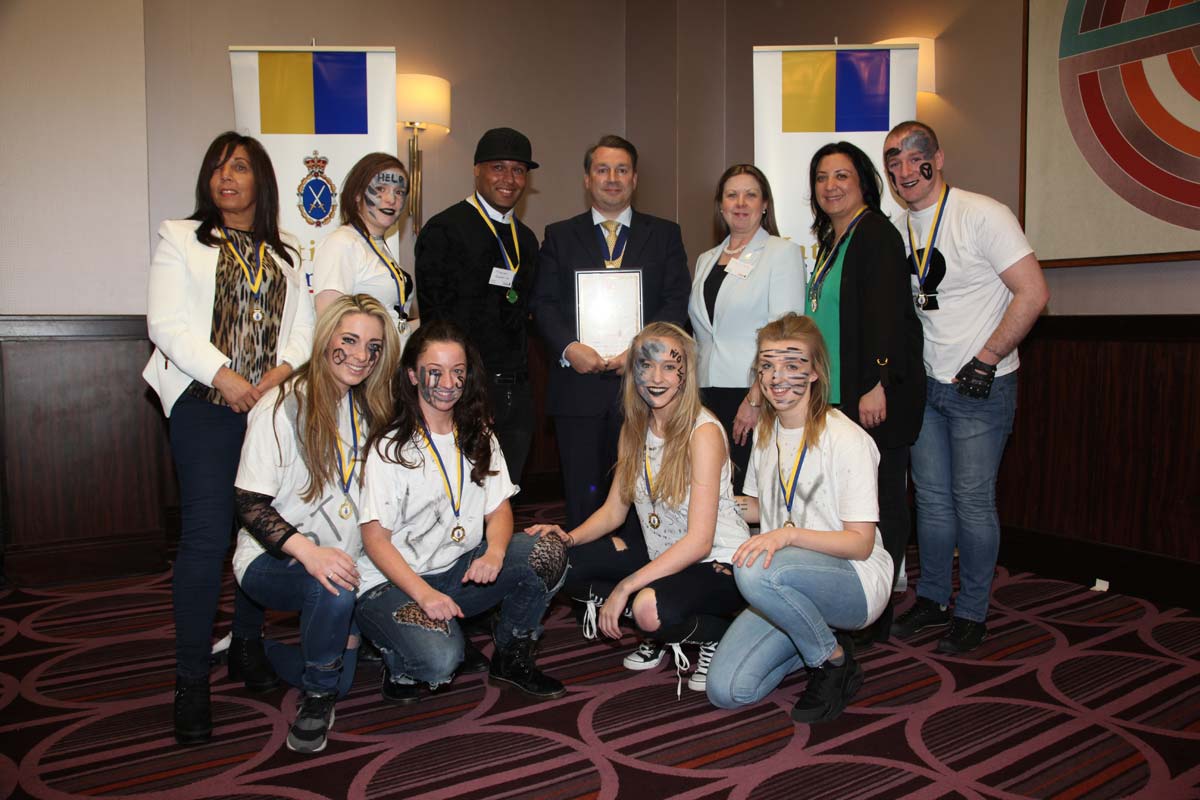 A group of young people from Liverpool are celebrating after winning a prestigious award to recognise their work in helping to put together a project to help a group of 14-25 year-olds improve their chances in life and not turn to crime.
The award was issued in London on the 11th March by the High Sheriff's Association in England and Wales and [dozens] of projects from National Crimebeat, the Association's youth crime prevention charity, were in the running for the honours.
The High Sheriff of Merseyside, Mrs Abila Pointing MBE DL and Merseyside Police invited applications from across Merseyside during November 2014. A wide range of projects were nominated, all with the common theme of supporting young people and making communities stronger. Subsequently, a local panel chaired by the High Sheriff selected a number of projects for submission to the national competition.
All of the nominees were recognised at a celebration event at Merseyside Police Headquarters in March 2015. The 'Emotions' Project from Liverpool went forward to the final for the 2015 National Crimebeat awards (category B) and was announced as the overall winner at a ceremony in London on 11th March.
'Emotions' was set up to work with 50 vulnerable young people between the ages of 14 and 25 years. The project uses performance as a platform to engage and inspire young people and improve their chances in life. Following an open day in January 2014, 63 young people committed to the project. They worked with volunteers from MD Productions to develop their own performance areas including script writing, music, drama and dance. They delivered a number of performances in the community which culminated in a show before a packed Liverpool Empire theatre. The Emotions performance reflected real life situations that mattered to the youngsters, focussing on change, inspiring hope, ambition and dreams.
During the programme the young people also accessed therapeutic support to assist them with any personal issues they were facing.
Speaking about the win, creative director of MD Productions, Miguel Doforo, said: "We were overwhelmed at the High Sheriff Awards in Liverpool, so to then go on and win the National Crimebeat award is such a boost for everyone involved in The Emotions Project. We have proved to young people that hanging out on the streets, petty crime and anti-social behaviour won't help them in the long run, instead giving them a creative outlet to express themselves and realise their ambitions.

The Emotions Project has created a really strong group of young people who are dedicated, motivated and working hard to realise their dreams and create better futures for themselves. They are inspirational and causing a ripple effect of change in their own communities and circles of friends. I am so pleased."

High Sheriff of Merseyside, Mrs Abila Pointing MBE DL stated:

"I am proud that "Emotions" have won the National Crimebeat award for 2015. They are worthy winners and are typical of so many young people contributing positively to their communities."

Inspector Colin Lewis, Merseyside Police, said: "Every year we have a strong field of nominations on Merseyside. This is reflective of the creativity, commitment and compassion of our young people. Merseyside Police is always proud to support them and it's quite right that they have been recognised nationally. We are particularly grateful to the High Sheriff for all of her work finding and recognising those hidden gems in the community who have such a positive effect on neighbourhoods."
Social Share